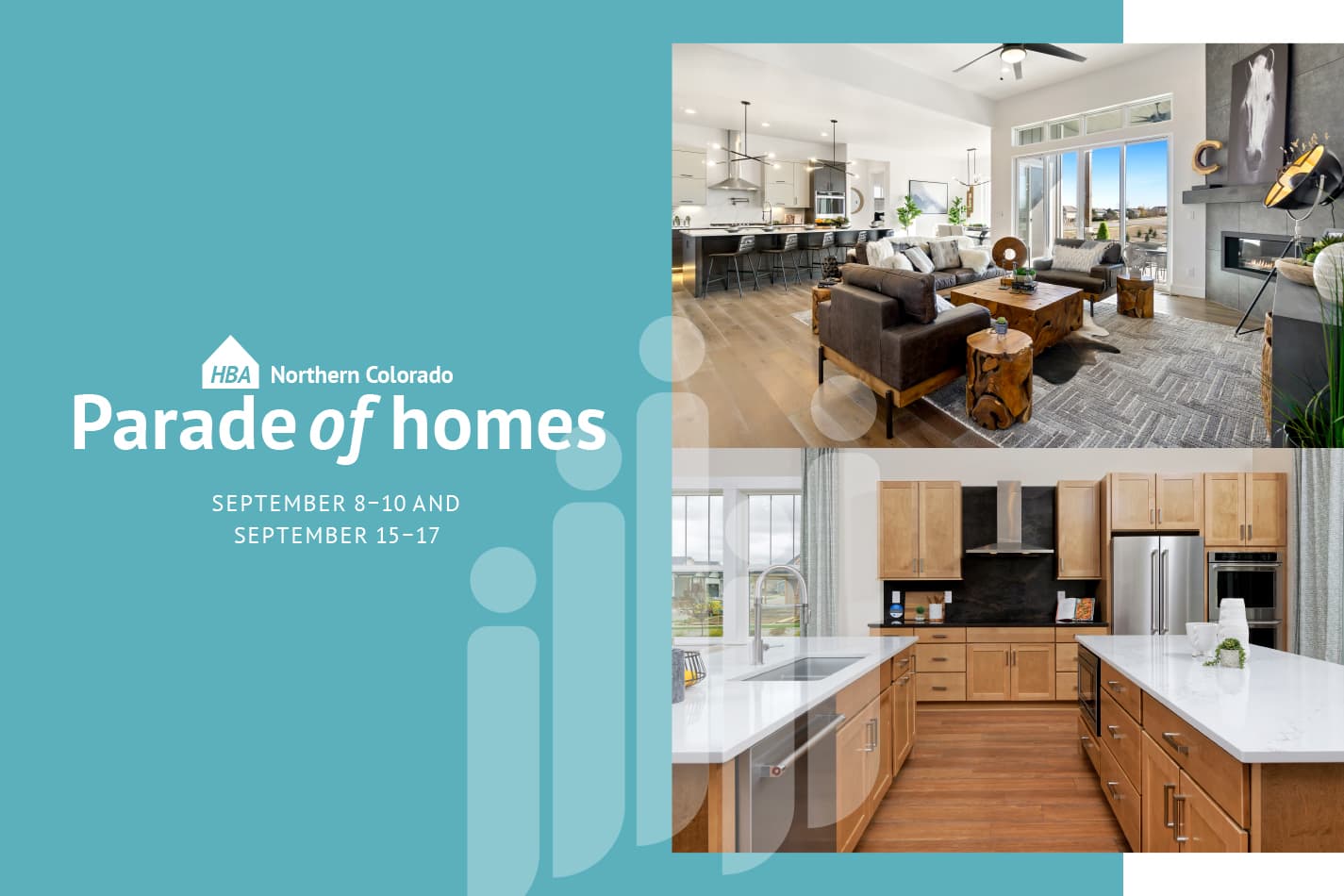 Sonders Fort Collins and our home builders are supporting this year's Northern Colorado Parade of Homes, an opportunity to tour new homes in Fort Collins which will take place over two weekends: September 8-10 and September 15-17. Both of the builders at Sonders Fort Collins – Thrive Home Builders and Bridgewater Homes – will have homes on the tour.
The Northern Colorado Parade of Homes, hosted by the Northern Colorado Home Builders Association (HBA), is an impressive event that invites the public to see new homes in the area from the top builders in this region. "Not only does the HBA educate the public about new home builders and new developments in the area, it also lights a spark of curiosity amongst those in the community," says Bridgewater sales consultant Holly Braning. "Whether in the market for a new home or not, people love to experience newly built model homes, and the HBA provides a literal map to help them on their journey."
Builders bring their best to the tour in the hopes of earning one of several prestigious awards. A team of judges, organized by the Northern Colorado Home Builders Association, chooses Golden Key Winners from homes within a $150,000 range based on their curb appeal, design, kitchen, master bath and overall workmanship.
The Parade of Homes is a valuable opportunity to tour new homes in Fort Collins, including the premier models by Thrive and Bridgewater located at Sonders.
Bridgewater Homes will present its Camden model at 2045 Morningstar. The Camden is an expansive ranch design–more than 5,000 square feet of interior space–with abundant outdoor areas and beautiful finishes. With 3 bedrooms, 2.5 baths, and an open, airy kitchen layout, the home is perfect for spreading out and entertaining, while also offering the comfort and convenience of main-level living. "Although each one of Bridgewater Homes floor plans are thoughtfully designed and include an obvious attention to detail and quality, the Camden is a truly stunning example of everything we offered in the finished product," says Braning. "Once you've seen it, the Camden is one of those houses that never really leaves your mind."
Thrive will be showcasing The Retreat model, a culmination of 30 years of high-performance building science. Part of Thrive's Concord Patio Collection, The Retreat model was featured as a Vision House with Green Builder Media. It's all-electric, solar-powered, and carbon neutral, using Thrive's trademarked Thrive Carbon-Wise® building approach that evaluates the operational and embodied carbon of the home. "The operational carbon is eliminated through the all-electric components of the home paired with renewable energy," says Lemus. "For the embodied carbon, 19,000 individual pieces and parts were evaluated. It was determined that 103 metric tons of carbon needed to be purchased to offset the carbon emissions of home, which was done by investing in a handful of decarbonization projects through a vendor named CNaught."
Thrive Home Builders will also be hosting the Parade of Homes kick-off event on Thursday, September 7. "At Thrive, we've been on a 30-year mission to demonstrate that homes can be built better for you, our community, and our planet," says Stephen Myers, CEO of Thrive Home Builders. "We feel our spirit of innovation is more important than ever as we seek to build homes that improve the lives of the people living within them while helping our community reduce its impact on climate change. Our homes at Sonders are a testament to this mission. We look forward to having people learn more about Thrive and our homes at the NoCo HBA Parade of Homes Kick-off Event in September."
The Northern Colorado Parade of Homes is a valuable opportunity to tour new homes in Fort Collins, and the community of Sonders is proud to be a part of this special event. Whether you're looking for remodeling ideas, in the market for a new home, or simply interested in exploring some beautiful spaces, mark your calendar for the 2023 Parade of Homes.
Read More